Comfort foods come in all shapes and sizes. Some people prefer a big bowl of creamy macaroni and cheese, others prefer a pint of ice cream. Cookies are a hugely popular form of comfort food, especially chocolate chip cookies. Who can resist a fresh batch of warm and oozy chocolate chip cookies right out of the oven?
While delicious chocolate chip cookies are a favorite for a reason, the downside is that they are often pretty unhealthy. The trick to being able to have as many cookies as possible, without having to start buying larger pants. How is this possible?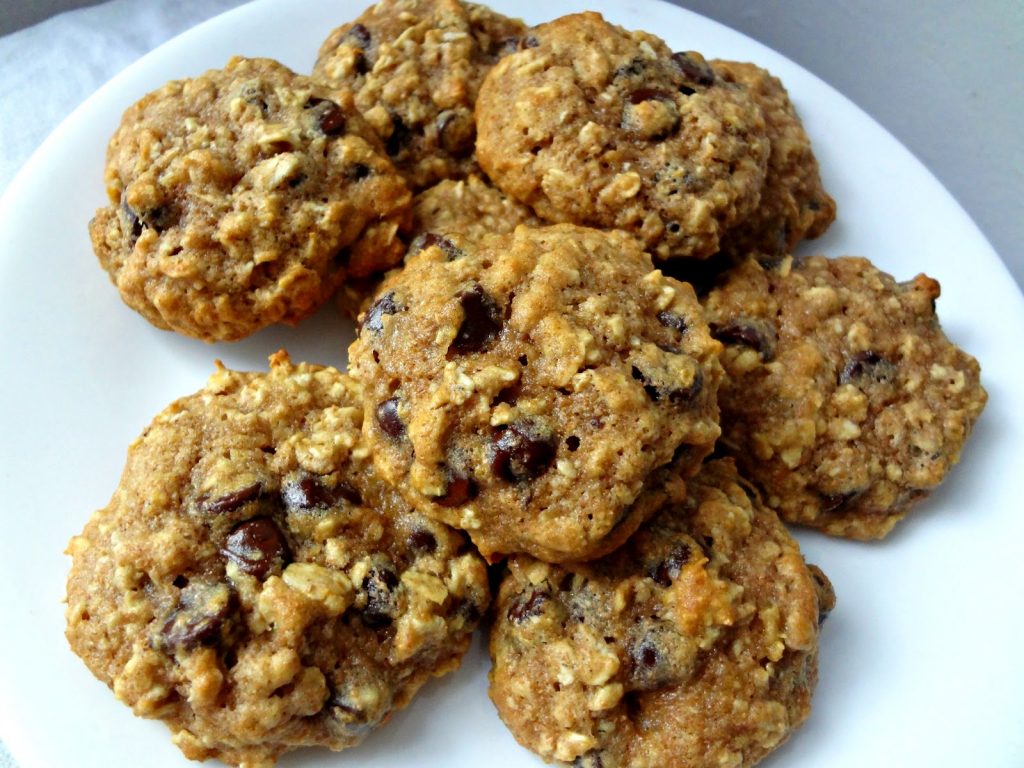 If you find a magic recipe of healthy cookies that are also delicious, you've hit the jackpot. That's exactly what these healthy chocolate chip oatmeal cookies are – magical. You'll be reaching for seconds (and thirds, and fourths…) but without the guilt. The cookies incorporate two types of oats, giving them a nice and interesting texture that you're sure to love.
Swap out any of the mix-ins with any additions that you prefer. We love the combination of dark chocolate and dried cherries, but you can add in anything, from raisins, dried apricots, walnuts…the combinations are endless!
Ingredients
1 cup quick-cooking oats
1/2 cup old-fashioned oats
1/4 cup whole-wheat flour
3/4 tsp baking soda
1 tsp ground cinnamon
1/2 tsp. kosher salt
1/4 cup (1/2 stick) butter, softened
1/3 cup granulated sugar
1 large egg
1 tsp. pure vanilla extract
1/2 cup applesauce
1/2 cup dried cherries
1/3 cup chopped dark chocolate, and extra for topping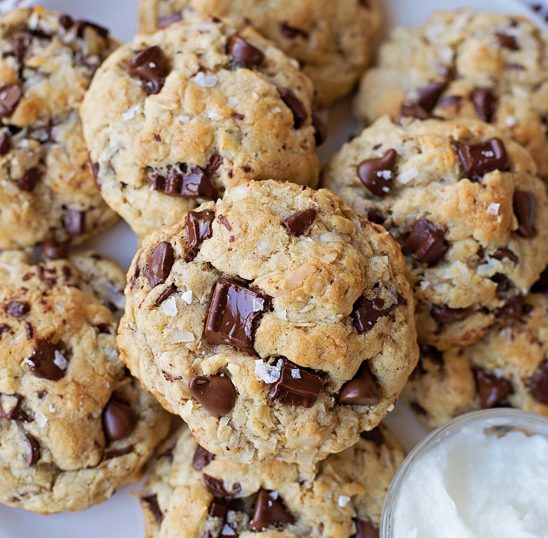 Step 1: Preheat oven to 350 degree F. Line your baking sheet with parchment paper. In a medium-sized glass bowl, mix oats, flour, baking soda, cinnamon, and salt, making sure that they're blended well together.
Step 2: In a large-sized glass bowl cream together butter and sugar until light and fluffy. You can use a hand mixer if you have one, it'll make the process a lot easier. Beat in egg, vanilla, and applesauce until the mixture is well combined. Mix in flour mixture until just combined. Fold in dried cherries and chocolate.
Step 3: Using an ice cream scooper, scoop balls of dough and aline them up on the baking sheet, about 2 inches apart. Flatten each ball slightly, make sure to be gentle! Top with more chocolate.
Step 4: Bake for about 12 minutes until the cookie's edges are golden brown and the chocolate has melted. Let cool, serve, and enjoy!